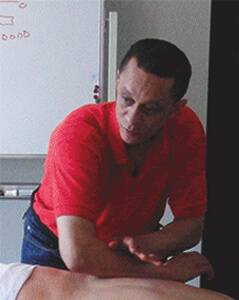 To book an appointment click above
Social Distancing & Clinic Facility procedures
We are following the guidelines of the Government and the Massage therapy Association (CMTO).  We have implemented the following:
Prior to a treatment: a pre-Screening quiz must be completed. Either on the phone, or via a link on this webpage. 
Treatment rooms before and after each treatment, the rooms are cleaned and disinfected.  When not in use, bathrooms and treatment room doors are locked to avoid anyone contaminating the space.
Scheduling: We will continue with 15 to 30 minutes between each client to clean and prepare.
Clients are requested to wash/sanitize hands upon arrival and wear a mask in a face up and side lying positions. We have masks if you need along with hand sanitizer at the front entrance.
Disinfectant: We continue to use Cavicide as our contaminant cleaner since 2008. (Hospital grade cleaner)
Separate lotion bottles:  6 rotating bottles of lotions for each room are cleaned & decontaminated. A different bottle is used for each client then sent to be cleaned/ decontaminated.
Therapist wears a mask and gloves(as usual) and has a face shield.  After each client scrubs/disposable gowns are changed hands and arms washed.
Entrance door :  We have a touchless sensor that will automatically open the door ...just wave your hand over the switch (If you are not feeling comfortable we also have our secondary manual entrance left side of the clinic)
Bathrooms are cleaned after each use and the person who uses the bathroom is the only one allowed to use it until they leave the building or until it is cleaned. (This is to avoid any cross contamination).
An important note on COVID-19:
An important note on COVID-19:
COVID-19 is spread through respiratory droplets, it cannot be transmitted through sweat. For the past 11 years we have been using and will continue to use hospital grade disinfectant to maintain safe practices, we will continue to provide a safe environment.
Health Precautions to take:
Wash and disinfect your hands often
Refrain from touching your face (mouth, nose, eyes)
If a client feels sick or ill even runny nose we advise them to stay home
---
We are open. We currently are giving treatments.  The landscape has changes slightly and we have implemented recommendations from the province and some additional positive changes.  Example:  No touch door openers,  Air pressure controllers,  We will continue with 15 to 30 minutes between clients to prepare the room. 

This Week's article


Through video conferencing and online remedial exercise programs your Health Care Provider can help you with a wide range of musculoskeletal (muscle, soft tissue and joint related) conditions.

Motion Med is available for pick up or delivery click here or send an email

Link to stretches

Function Movement videos below. click to expand.

Try some of these short videos they are easy to follow, cover a range of motion exercises focusing on self-care for shoulders, back, cervical and legs. Move mouse over video image to see playlist.

A. preventing upper back & neck issues due to slouching

B. Sit up obliques: strengthen & Lengthen   C. Light exercises for functional movement  D.  Light functional movement in bed before getting up  E. Gluteal area stretching & using a ball

 Can't find the exercise that is suitable for you send us a message and we will try to guide you in the right direction.

This video will lead you through a workout including warmup, cardio, stretch, sit ups and push ups. Motivational Contest!!! First 5 people to  1.subscribe and 2. complete the 8 short sections in the video. Go to contacts and send me a message and we will send you your very own copy of the complete video no charge. (good luck)
Welcome Paul Lewis Services Therapeutic Massage Clinic & Education
Paul Lewis Services Therapeutic Massage Clinic & Education
Welcome to the site. I am a Registered Massage Therapist, Combined Decongestive Therapist (ADP Authorized) and Reflexologist.  My colleagues are also registered in their fields of expertise.  We are by appointment only, (online schedule above)Flexible hours and we do make house calls. Send us an email if you have questions and yes, we do accept credit cards. We offer a variety of advanced workshops see Events.  The clinic is equipped with electric tables,  Ultrasound machines and up-to-date technology.  We also have a variety of items in the store including Gift Certificates, Topical pain relief and DVDs.
We have treated patients for various soft tissue issues stemming from pathologies such as: GBS, Post Surgical Mastectomy, Plantar fasciitis, Runner's Knee, Tennis elbow, Golfer's elbow, Cervical issues, Frozen Shoulder, IBS, TMJ, Lymphedema, Piriformis syndrome, SI joint pain, Pregnancy, Oncology Massage. NOTE: We cannot prevent said specific condition.  However, given the massage therapist's scope of practice, we can help to maintain, rehabilitate and augment physical function in a person who is rendered dysfunctional by the condition.
Published Peer Review Using: Dynamic Angular Petrissage(DAP)
Find out more about how Dynamic Angular Petrissage(DAP) can serve as treatment for Axillary Web Syndrome occurring after surgery for breast cancer: http://ow.ly/whyB303ZhBv
Click here to view our latest peer reviewed paper published. "A CASE REPORT OF THERAPEUTIC MASSAGE TO RELIEVE AXILLARY WEB SYNDROME, A RESTRICTIVE SOFT TISSUE CONDITION CAUSED BY BREAST CANCER SURGERY"
Send an Email  Workshop and Events 
---
---
What people are saying
Your bio states, "first & foremost an educator" and I totally agree you are! I just watched your Instructional In-Chair Massage and am very impressed with your knowledge, the way you speak & present and also watching you in action, clearly demonstrating the techniques you explained as well as your impressive posture. Thank You!

Lauralee St Amant

Personally, I believe you've saved my career Paul! The 1st course I did with you opened my eyes to the fact that I'd got into such bad habits regarding my posture and "body mechanics" I'm now much more aware and have much less pain in my right wrist (which used to be a real problem if I did more than 1 massage in a day!) each course I've done with you has helped me cement those better habits just that little bit more... Although I don't feel like I'm totally there yet so please come again!

Hannah Davis UK

Paul is a wonderful healer and speaker. He has inspired me to move further forward on my journey both professionally and personally. Thanks for that Paul!

Debbie Boehlen

i Thoroughly enjoyed the seminar and would highly recommend it to all that i meet. i learned a lot and hope to attend many more.

Garey-Paul Mitchell

I just took a 3 hour workshop with Paul and it was phenomenal! I wish it was longer, but I gained a lot of great information. Paul took the time to answer all questions and made sure they were clear and understood. He is a very knowledgable person and definitely an asset to our industry. He is someone worth taking a training with. So if you have the chance, take it! Thank you Paul for the great information and tools!!

Holli deLeon

I am really happy with your DVD. It has helped me with practicing techniques you taught at the workshop and I feel confident to go out and work with clients using chair massage. I feel it is a valuable tool to help learning correctly. Thank you once again for your help.

Beverly

I'm actually watching your video right now. I'm really glad you made this video, because your body mechanics and style are excellent.

Jessica

I was so touched by the music and I enjoyed your video that I am going to use the Lewis circle exercise for myself and clients.

M. USA

As a Chinese acupuncturist...great techniques I use many of the techniques to help relax the client in the various areas before applying needles.

S.

I personally use L Circles inbetween client sessions to re-focus and prevent stiffness in my upper body as I treat multipule clients back to back throughout the day. On a daily basis I suggest Lewis Circles to my MVA clients with head, neck, shoulder concerns who have pain and difficulty doing pendulum exercises due to additional lumbar issues.

B.

Congratulations on such successful fundraisers, you have truly made a difference. Your gift will be used to support emergency relief and recovery operations in Japan, after the devastating 9.0 magnitude earthquake that struck on March 11th. As a dedicated supporter of the Canadian Red Cross, thank you for entrusting us with your generous donation.

Stephanie Etkin

This is a wonderfully thought out program. Even after having taken the Chair Massage workshop with Paul, I am able to peruse the DVD and review the areas I need to work on. Paul's commentary in this chair massage program is quite insightful and easily understood. This is aldo a great DVD even for those that are not Registered Massage Therapists and just want to get some hands on experience with massage.

R.

I'm a SC student, I just wanted to say, you did an awesome job on your "Dynamic Integrative Massage Techniques" video. I'm a visual learner, and honestly, I think I have taken out every single video from the SC library, but from all the videos, this one has helped me the most. Thank you so much!

Jenny Postles

Massage therapy student