Therapeutic Massage with Paul Lewis RMT
Jump to: What to expect on your first visit
What to expect on your first post surgical mastectomy / implant visit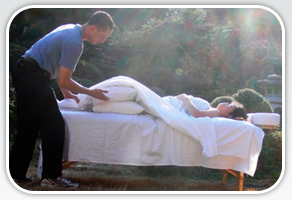 What is Therapeutic Massage?
Therapeutic Massage is the treatment of muscles, connective tissue, joints, ligaments and/or tendons with the intention of addressing the client's needs. The therapeutic treatment may include the use of hydrotherapy, stretching and strengthening in order to maintain and/or improve your overall health and well-being.
Post Surgical Rehabilitation Massage
What to expect on your first visit for treatment post surgery -Mastectomy/ Implants
1. You will be asked to complete a short Health History form and then we will discuss what brings you into the clinic.
In order to try to determine the source of your discomfort/restrictions/altered sensations, an initial assessment will have to be done.
Where there is surgery–scars, adhesions and restrictions may be present –for your comfort Japanese style-half kimonos are provided during the assessment.
2. Following the assessment, I will discuss how I would like to proceed, the reasoning and rational for the techniques, modalities, comfortable treatment positions, and the structures to be addressed.
Below are comments from one Cancer Survivor following her treatments..
To make an appointment call directly or send an email
Massage Therapist
As a massage therapist I am trained to be versatile and flexible offering options to treatment positions and techniques.  Although uncovering the scar during treatment would be most effective, options are available if you are uncomfortable about having the area undraped.  When considering a therapeutic Post Surgical Rehabilitation Massage to help with pain, pulling, possible altered sensations or restrictions in movement, remember that you must feel comfortable and must be informed, as to what is involved in the treatment.     As a client you will be asked to give consent to any treatment you will be receiving.  We will work together to try to find the best solution to your concerns.
Clinical experiences include:
TRAM: Transverse Rectus Abdominus Myocutaneous
Single mastectomy
Double Mastectomy
Implants over pectoral muscle
Implants under pectoral muscle
Combination of over and under the pectoral muscle
Expanders when preparing for implants
What to expect on your first visit
You will be asked to complete a health history form and the therapist will do an initial assessment. This confidential information will be instrumental when creating your personalized safe and effective treatment plan.
If you have already completed this health form please bring it with you to the first appointment. If not, please come 10 minutes early to fill out the form. (available on line)
Any information you provide is keep strictly confidential and cannot be transferred without your written consent.
Is the treatment covered by OHIP?
Massage therapy is not covered by OHIP. But you should check your health benefits plan because many extended heath care plans cover massage. I will issue you a receipt with my registration number which may make it possible for you to claim a full or partial refund for the cost of the treatment.
How do I know if the therapist is an RMT?
RMTs are required to display their Certificate of Registration which shows their registration number. Or you can call the C.M.T.O (college of Massage Therapists) to verify.
RMTs are required to ask for your consent before treating you and you can withdraw your consent for treatment at anytime.
In addition, you may decide to be treated fully clothed and your privacy will always be respected.
Post Surgical Rehabilitation for Cancer Patients
I just wanted to inform other survivors that are feeling depressed and self conscious as I did; that massage therapy improved my life!  Having undergone mastectomy, chemotherapy and radiation therapy, my body was feeling foreign, weak and wounded.  Surgery had left me with limited mobility on my left side; even combing the little hair I had left was a painful challenge.  When I was referred to Registered Massage Therapist,  Paul Lewis for post cancer rehabilitation,  I was apprehensive about how my body would cope with yet another form of treatment.  But with very limited rotation in my shoulder, along with restricted movement in my neck and a constant numbness and tingling in my hands, I felt I had little to lose from trying something new.  As soon as he started his assessment of my condition, however, any worries I previously held went out the window.  Paul explained every movement, stretch and therapeutic touch to ensure my comfort and ease.  The pressure he used was never painful, and the exercises he prescribed were simple and effective.  His recommendations for self-treatment were easy to remember and fit into my lifestyle with ease.  During each session, he took extra measures with draping and positioning my body, which allowed me to relax completely throughout the duration of treatment.  After only two months once per week for 1.5 hours, my scar tissue has improved, and range of motion on my left side has been restored to nearly 90%.  I've gone from someone who could barely comb their own hair to someone who can once again swim with my kids while on our recent family vacation.  With Paul's help to restore my mobility and reduce my pain, I've begun to reclaim the things I enjoyed in life before my cancer diagnosis.
I know it is difficult to think of going for further treatments after we have been through so much to battle the cancer but you need to know that massage therapy is worth it to get your active life back.  I would recommend to other survivors, as well as to doctors, surgeons and therapists looking to refer their patients to someone who is both knowledgeable and sensitive to cancer-related trauma.
It is best to look for a Registered Massage therapist who has post mastectomy experience and who is sensitive to all we have been through.
Karen  T.
Wife, Mother and Cancer Survivor
2010