In-Chair Massage at Paul Lewis Services clinic
In-chair/ Chair massage
In-chair massage is an alternative to the mobile table where the client may not have enough time for a complete body massage. In addition, In-chair massage may be combined with the table treatment at the clinic; could work over your clothing; no creams or lotions are necessary and the amount of space required to set up is minimal.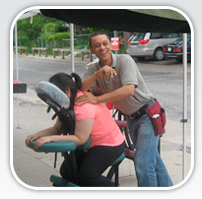 Corporate In-Chair Massage treatment is massage administered through normal work clothing and requires no oils or lotions. Instead of using a table, the massage is performed in a specifically designed portable massage chair that our massage therapist brings on site to your company event or workplace. These chairs are ergonomically angled forward allowing you the client a chance to lean forward and relax.
Chair massage usually lasts between 10 and 15 minutes and can be longer if requested.
The treatment focuses on areas that often cause problems for many people who use a computer keyboard, sit at a desk, drive for long periods of time or do physical work.
What to expect
You the client will be treated to a 10 or 15 minute In-chair massage which includes the back, head, neck and shoulder area. Time permitting, we also include the arms.
The massage techniques are designed to increase circulation, help reduce your stress levels and give you an overall feeling of harmony.
The massage treatment is performed in a specifically designed chair and requires no disrobing.
The chair will be cleaned before and after each treatment and a new face cradle cover will be placed on the face rest for each client.
The therapist will adjust the chair for your comfort; explain how to give feedback regarding the amount of pressure that is most comfortable.
The treatment takes approximately 10 or 15 minutes to complete. It is not a medical treatment. The in-chair massage treatment is geared towards increasing circulation; relaxing your shoulders, arms, hands, neck and back, to enhance your feeling of well-being.
We hope you will experience general relaxation and a lift in your energy level.
At the event each client can pay for their own treatment and will receive a receipt with the RMT number and signature for insurance purposes. Alternatively,the company can sponsor the event for 3 hours per therapist depending on the number of clients. Note:on average each therapist can handle 5 client per hour for 10 minute treatments. If you have 15 clients you will need 1 therapist for 3 hours at 90x3hrs=$270.00 (See Fees)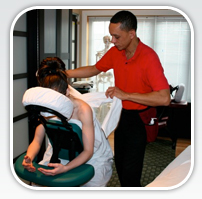 All of the massages we perform at Paul Lewis Services are Therapeutic treatments.   Whether or not the treatment is a corporate setting or clinic setting,  the focus should be on treating the cause not just the symptoms.  In the picture above the patient was moved from the table to the chair because she was unable to be in a prone(face down) position on the table.